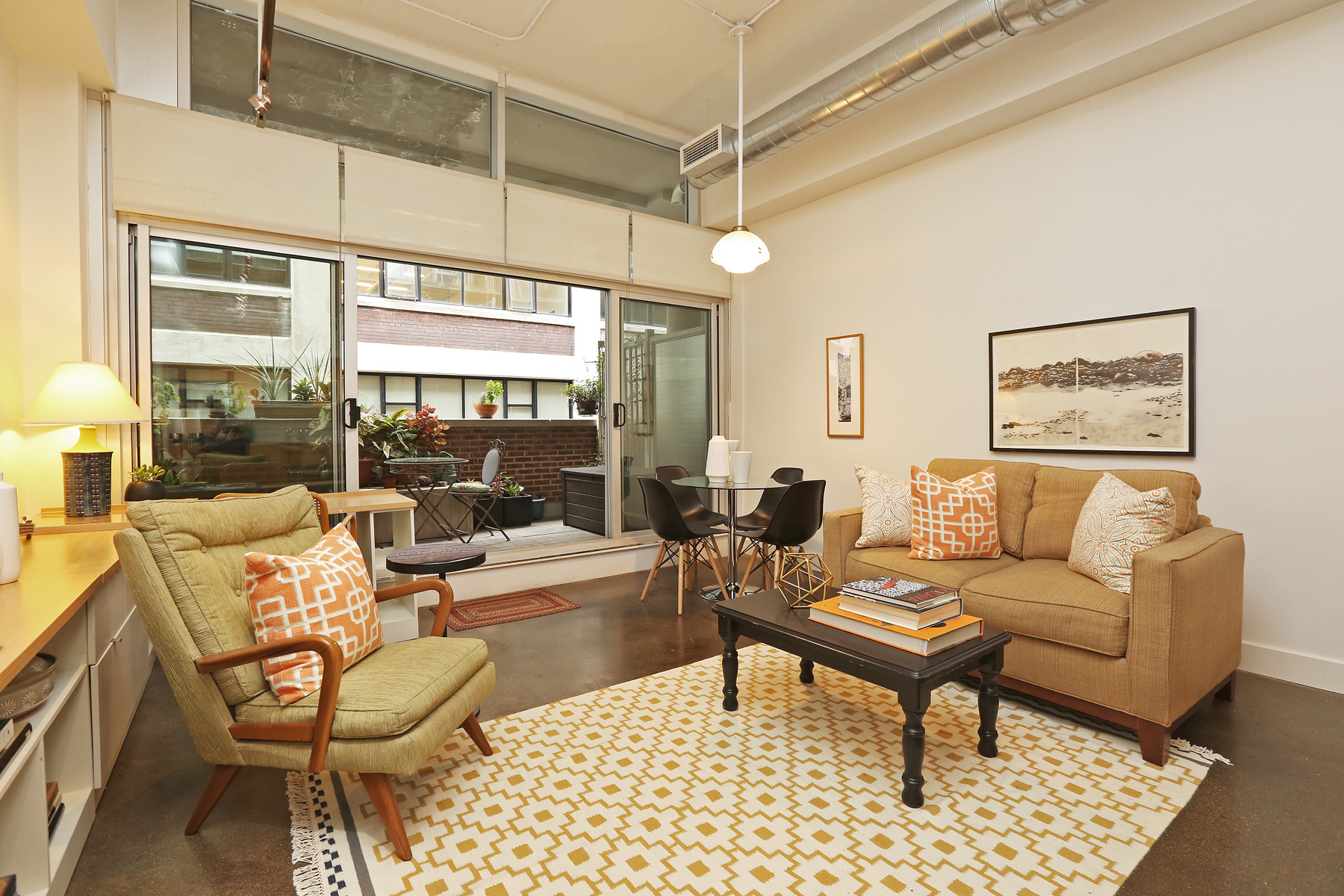 ---
Soaring ceilings reach almost 12', polished concrete floors, concrete ceilings, storage and pristinely renovated washroom, this is a factory hard loft packed with charm & character.Relax on the of sunny balcony w gas BBQ connection, power, factory brick and glass surround – a private oasis insulated from road noise facing a quiet historic commercial building. Now there's no excuse for not getting outside more.
The unit includes bike/scooter parking, locker room, a wee gymnasium, security and a vibrant, diverse community, this condo is a stylish, practical choice for those bored of the cookie-cutter boxes.
Also available: Floor Plans, Features and Status Certificate
The Community 
Located just north of Queen Street East on Carlaw Avenue, this vintage live/work loft is located in the heart of hip Leslieville. Up the street from the 24-hour Queen streetcar, daily shopping, café culture, and purveyors of the funky and fine, this romantic voluminous space is truly enhanced by a convenient urban village life. Our fav's include Te Aro Coffee Roasters, Good Neighbour, Delica Kitchen for delicious soups, salads and pret å manger sandwiches, and for those who crave something sweet, the always enticing Bobbette and Belle Bakery. Plus Gerrard is brimming now with coffee shops and gastro-pubs… Like Mexican?  Chula's is the place to be!
This is the ideal location for nature, water and fitness lovers. It's just a short stroll, bike, or blade away from the sanctuary of the Leslie Spit and the recreation of the Beach. Imagine, a location with accessible cardio cleansing, contemplation, and day dreaming just steps from your door! And for those who have to hit the road, Carlaw to Lake Shore Boulevard offers easy access to the Don Valley Parkway and the Gardiner Expressway.
Overview:
Building Type:      Loft Conversion
Eight Story, 154 Lofts
Stories 1 – 4 are the Original Factory Floors
Original Brick Warehouse Façade, Glass And Steel Top Up, Renovated Landmark Industrial Building, Designed By Core Architects Inc.
Unit Size:             589 SQ FT  + 112 SQ FT Balcony per Builder's Plans
Year Built:           2007
Walk Score:                  96, Simply Paradise
Transit Score:               89, Par Excellence
Bike Score:                   93, Paradise on Wheels
Gas:                         $    20-30/mo
Electricity:            $    45-55/mo
Tax Year 2018      $  2,093.99
Maintenance:       $    383.11
Features:
11.6' Ceilings
Polished Concrete floors
Exposed Ductwork and Columns
Parkette that backs onto Boston
Frosted Glass Ceiling and Wall Sconce Fixtures in WR
Power and Gas Connections on Balcony
Bike/Scooter Parking
Locker
Gas Range
Limestone Counters
Tile Backsplash
Custom Kitchen Island
Notable Updates:
Recently Painted
Fully Renovated Washroom
New Hot Water Tank (owned) and Venting
Breakfast Bar
Inclusions: 
Hot Water Tank
Washer/Dryer
Dishwasher
Fridge
Range
Kitchen Island
Terrace Gas Bib
HVAC Equipment
DR Pendant
All Track Lighting and ELFs
All Window Blinds and Hardware
Terrace Storage Benches
Terrace Furniture and Most Plantings
Exclusions:
Hallway Bookshelf
Errors And Omissions Can Happen,
Please Confirm Any Critical Information.